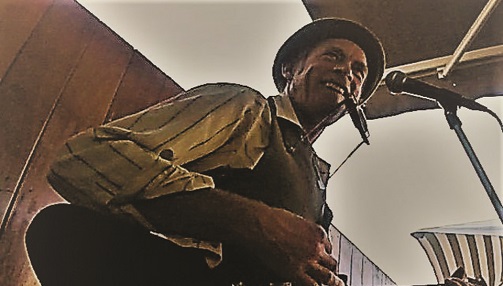 Shayn Wills
To have played support gigs for one of them would be a musician's career highlight, but to have played support gigs for all of them you would have to be a musician of world class standard. Well, let me just mention one name, Shayn Wills. Between 1992 and 2006, Shayn Wills played support for each and every one of these legendary innovative musicians.
Watching Wills play it becomes glaringly obvious that he is something very special. For starters, his ability to play harmonica, guitar and sing at once is astounding and entertaining, (" …the way Shayn plays guitar harmonica and sings all at the same time astounds me" Midge Marsden). And he has his own unique style of playing. His playing comes from a place of sincerity and heartfelt passion, and there is something about his playing that is distinctly New Zealand. You could easily say he has created the term "New Zealand Blues".
At 43 Shayn has now had 31 years of playing, learning and living the Blues. His voice, guitar and harmonica playing have matured into something extremely special and unique. Shayn travels regularly to concerts in Australia and the UK; he has a wife and 2 children and continues to try to make a living from his music, which when in NZ is the Blues in itself.
His complex guitar rhythms, innovative harmonica riffs and melodic voice make him a must see act. Julie Oakley, a reviewer for the national music magazine "Real Groove" is quoted to say, "Wills is one of the original black Mississippi Blues legends, reincarnated and living in Auckland, (New Zealand)".
Having made many successful albums with other line-ups and just releasing his 2nd successful solo album, this is one musician ready to make the Blues gold.
shaynmo@hotmail.com
Cel: 021 164 454