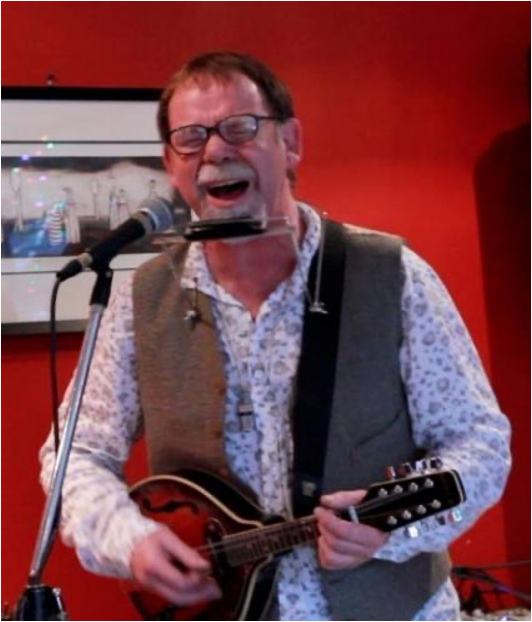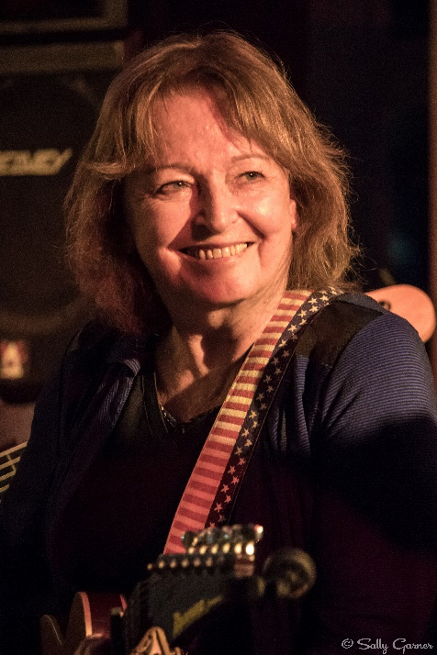 Kelburn Viaduct Municipal Ensemble Jug Band (KVMeJB)
The Kelburn Viaduct Municipal Ensemble Jug Band are:
Neil Worboys - Vocals, banjo, mandolin, blues harps, kazoo, jug, whoops
Carol Bean - Vocals, guitar, mandolin, hollers
Maurice Priestley - Vocals, mandolin, guitar, banjo, vocalisations, kazoo, jug, sounds
Bill Wood - Vocals, dobro, harmonised vocalisations
Peter Gregory - Vocals, tea -chest bass, double bass
Barry Carter - Vocals, washboard
The Kelburn Viaduct Municipal Ensemble Jug Band (KVMeJB) had its genesis in August 2013 when Pip Payne, Neil Worboys, Bill Wood, Maurice Priestley, and Steve Carlyle, banded together with the avowed intention of playing Jug Band Music together. Jug Band Music played an important part in the development of their individual DNAs and a vital source of inspiration for all things musical.
Kelburn Viaduct Municipal Ensemble Jug Band music is a mix of original songs, which intentionally and vaguely follow the styles of Robert Johnson, Leadbelly, the Jim Kweskin Jugband and other inspirational pioneers of blues and jug band music, and cover versions of the above-mentioned heroes.
Before the band had their first practice they were booked to play at Jazz and Blues Festivals in Palmy North and Upper Hutt in 2014 by entrepreneur Roger Fox. Irregular gigs at the Kelburn Village pub and the Thunderbird Cafe kept the requisite kazoo, tea-chest bass and lagerphone skills honed and they added gigs at the Rogue and Vagabond, The RoomFullaBlues at the Bristol, MOON, and the Cross Creek Blues Club in the 'rapa later that year.
2015 started with a packed out Meridians Gardens Magic Concert at the Wellington Botanical Gardens sharing the bill with the afore mentioned reformed Bulldogs All-Star Goodtime Band. This led to the KVMeJB being invited to entertain the film crew on the set of Disney film Pete's Dragon. Other highlights for the KVMeJB that year was being invited to present their own concert on the programme of the Wellington Folk Festival.
The Kelburn Viaduct Municipal Ensemble Jug Band LP CD, Stomp Around the Floor, was recorded in Maurice's fledgling PriMau Recording Studio i.e. his dining room by Andrew Downes on the afternoon of Saturday 31 October 2015. The end of 2015 saw Pip moving out of the KVMeJB and moving on and Carol Bean moving in and installing her own moving trunk load of jug and string band songs and experience.
The band maintained and built their fan base through to 2020 by adding gigs at more key venues including Expressions, Days Bay Pavillion, Bethel Woods, the Cable Car Museum (with Barry Saunders), and St Peter's Hall Paekakariki.
They released their second CD and online EP album Round Your Door, featuring all original compositions by members of the band on Friday 31 July 2020 at the Wellington Bluegrass Society.
Steve's decision to move back to Gisborne lead to the recruitment of specialist tea-chest bassist Peter Gregory, and specialist washboard player Barry Carter, to replace him for the final gig of the year at the Tin Hut in Wairarapa.
Contact
Email: primauproductions@gmail.com
Phone: Maurice Priestley 021 552 933
Neil Worboys
Neil began performing in bands and composing songs in Wellington in the early '70s and has been involved in New Zealand Pop / Rock and Roots music continually ever since.
Initially Neil sang and played in jug bands, one of which, the Bulldogs Allstar Goodtime Band, became successful in the mid-1970s with New Zealand Top 10 hits Everyone Knows and Miss September. (Members of Bulldogs and Hogsnort Rupert - The Hogsnort Bulldogs Goodtime Band continue to perform to this very day!).
He continued to play jug band and roots music in the 1980s and early 1990s while living in Gisborne, teaming up with Maurice Priestley and Steve Carlyle in the Trizonal Space Warpers, The Customliners and more recently, the TimeLiners.
Neil returned to Wellington in 1993 and formed the Wellington Heads, a jazz / rhythm n' blues band which also includes Bill Wood.
Carol Bean
Having grown up in Southern California during the 60s, Carol aspires to replicate the spirit and fun of the jug bands she saw at The Ash Grove and the Golden Bear ‒ bands like Country Joe and The Fish and the Jim Kweskin Jug Band featuring Maria Muldaur. She was also influenced by the blues resurgence of the time (Lightnin' Hopkins, Mance Lipscomb, Mississippi John Hurt) and sat in as a shy guitar student of Ry Cooder and Dave Cohen's.
As a member of the KVmeJBand, she plays guitar and shares a love of quirky tunes, funky sounds, and vocal duties with Neil and Maurice.
With one foot in acoustic folk/country music, and one foot in the blues, Carol has released three original albums. She has various musical partners ‒ Dave Murphy, Ray Ahipene-Mercer, Tony Burt, Richard Klein, Jack Mackenzie, Nick Swan, and Costa Botes and plays regularly at folk and blues festivals here and overseas. She has recently guested at Coastella, Cuba Dupa, Wellington Blues Club, Wellington Bluegrass Society, and Thunderbird Café.
As part of the music scenes South of the Divide and the Americana Midwinter Holler, Carol remains a faithful contributor to the salt-of-the-earth Kiwi music festivals Tahora (Taranaki), Te Rangi (Hawkes Bay) and Patuha (New Plymouth).
Bill Wood
Bill has been playing Jugband music since his school days, back when his best friend was a washboard. His musical reputation quickly spread to the house next door and back again. His hobbies are shouting at clouds, counting his nose, listening to Russian jungle punk music, and vodka. Bill also has another life (but not as we know it) in the 3rd Octave Band.
He has been the banjo player in the Fat Daddy Soapflakes Orchestra, tea chest player with the Hot Mumble Jug Band (both in Nelson), before being kidnapped and sent to live on an island in Palmerston North.
He spent some time with the Bulldog's All Star Goodtime Band with Neil and is also a core member of the Wellington Heads. That's a fake goatee, he keeps the real one in a drawer at home.
Originally contributing tea-chest bass to the mix Bill is now the resident dobro player with the Kelburn Viaduct Municipal Ensemble Jug Band and keeps the faith that it is "the finest jug band in Christendom".Maurice Priestley
Maurice Priestley plays guitar, mandolin and banjo in the KVMeJB. He was born and raised in Gisborne where he gained his guitar playing skills from folkies at clubs and festivals and as a member of Jock Strap and His Elastic Band.
At Waikato University in the early '70s meeting and playing with Marion Arts and Dave Maybee at various campus events help shape Maurice's direction. He toured NZ with Dave in Climax/Red Herring, and later hit the pub circuit with Easy Street from hometown Gisborne.
The '80s started with the NZ Arts Council Sponsored Wunna Those Cardboard Roads tour with Gisborne poet/songwriter Jon Benson covering Whangarei to Queenstown. Back in Gisborne Maurice played with various Gisborne bands including Ha Ha Bonk, and in the early '90s, the Customliners which is where Neil, Maurice and Stevo began their musical alliance.
When he moved to Wellington in 2000 Maurice helped Neil develop some of his blues-based songs leading to the production and release of the critically acclaimed CD Some Day Soon by Neil Worboys and the Real Time Liners.
Barry Carter
Barry's journey to the Jug-a-lug world has been down the long and winding road. From learning classical piano and composition at the NZ School of Music, through Indie Rock in his youth recording an album of originals songs, playing clubs and pubs in Sydney, which included support to both Ice House and The Divinyls, to Celtic and Folk in the USA and another two albums, then back to NZ playing Dixie & Trad Blues in the New Valley Stompers, of which he has been a member since about August of 2016.
Peter Gregory
Little is known about this guy although it is said that he was born a long time ago, in Gore, and cut his teeth playing bass in the pit orchestra for the local Operatic Society, and playing at the Gold Guitar Awards. I heard he disappeared to Melbourne for a while to study sound, and then spent 20 odd years in Gisborne playing bass in various pop/folk/jazz/rock groups, jazz and blues bands and producing vocal jazz recordings before moving to Wellington 20 odd years ago. Here, he played with swing band DUKEWellington and Capital City Big Band and now, after being reluctantly coaxed out of retirement, has graduated from double bass to tea-chest bass in this ensemble.